Body
See our currently adoptable animals listed below
Placement in a loving home completes the journey for many of the animals that come through our program. We screen applicants to help ensure a successful placement and provide support and education as needed. Please call (707)442-7729 to inquire about our available cats or to fill out an adoption application. 
All of our adoptable cats have been spayed or neutered, treated for fleas and parasites, tested for FIV and leukemia, microchipped and basic health check. The adoption fee is $100, which only covers a portion of these costs.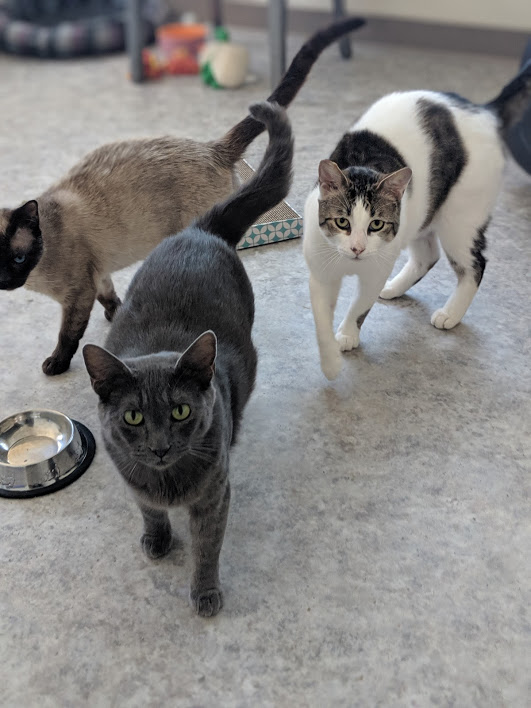 Pictured here is our clinic cats- Gloria (front), Armando (right) and Eddie (left). Although they get to roam when the clinic is closed, they would much rather roam around a family home!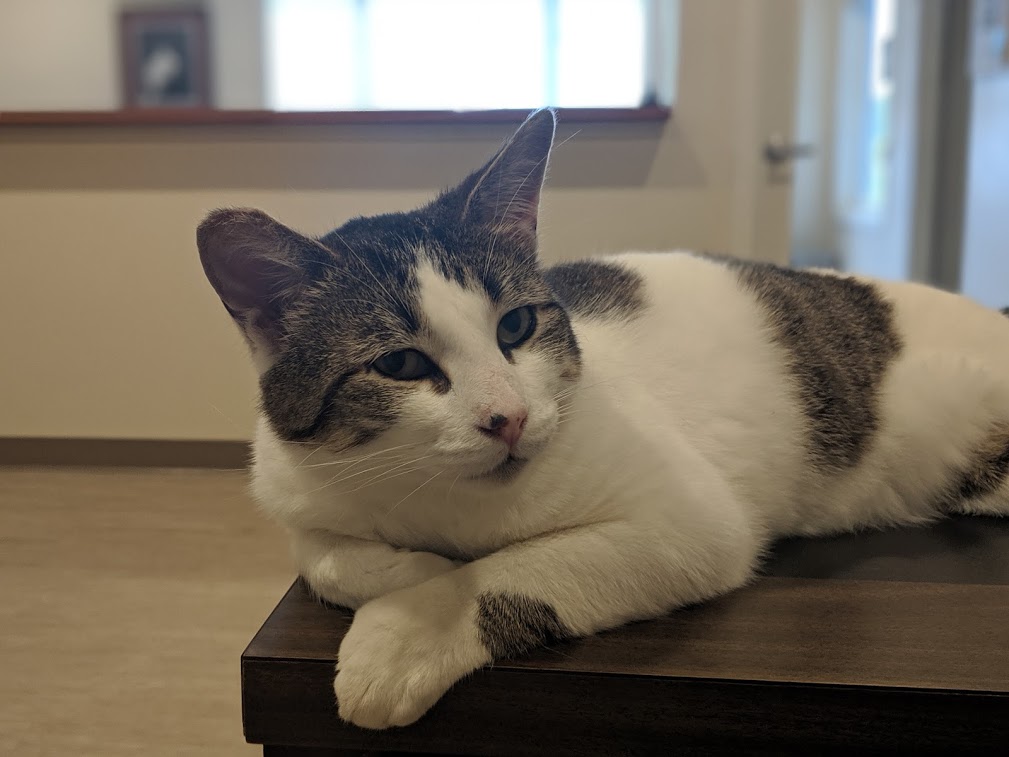 Name: Armando
Age: Adult (approx 4 years old)
Notes: Armando originally came to us a few years as a feral cat; he was neutered,ear-tipped and returned. A few years later, he came back to us with a bad injury to his front leg that required bandage changes every other day. This is when we discovered how sweet he was, and that he deserved a loving home with a family! He is very docile with other cats and tolerates being held by kids. We believe he could adjust to any life-style, although we would recommend his as an indoor cat only as he spooks easily outside. He is currently locate at our veterinary clinic, so stop by to meet sweet Armando!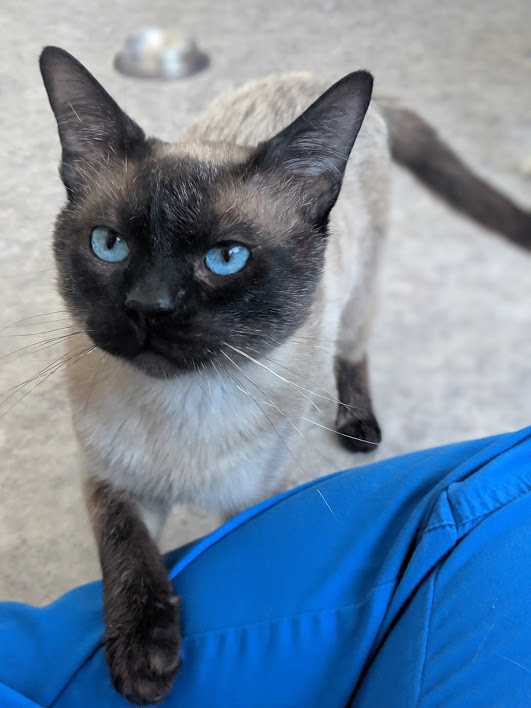 Name: Eddie
Age: Young Adult (approx 1 year old)
Notes: Eddie is another cat that was brought in as a feral with a nasty injury to his head- we believe self-inflicted due to a severe flea allergy. We quickly discovered that all Eddie wanted was love (and scratches!). After months of wound and skin care, he is now ready for adoption! He is a very playful younger guy who wold do best with another playful buddy. Eddie and Gloria (another adoptable cat) have created a very sweet bond, and can be adopted as a pair, but it is not required! He is currently located at our veterinary clinic, so stop by to meet spunky Eddie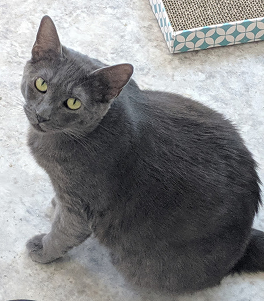 Name: Gloria
Age: Young Adult (approx 2 years old)
Notes: Gloria was trapped at a trailer park where she unfortunately helped over-populate with many litters of kittens. She was done caring for so many little ones and was ready to find true love. Although she was brought in a humane trap, her purring and biscuit making gave her away. She is a very good eater, as you can tell, and is a bossy lady that keeps the other clinic cats in check (with just a simple swat). She has bonded with Eddie, and they can be adopted as a pair, but it is not required. She is located at our veterinary clinic, so stop by to meet glorious Gloria.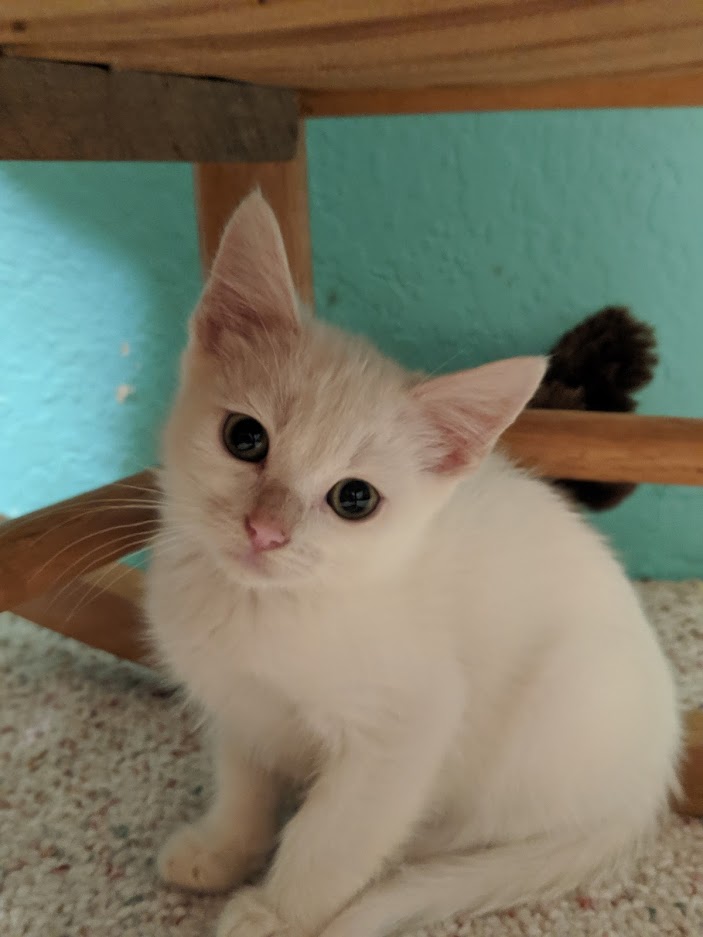 Name: Pepper (Adopted)
Age: Kitten (10 weeks)
Notes: SPECIAL NEEDS-> DEAF. Pepper was trapped at a feral colony when she was 6 weeks old and taken into a foster home to be socialized. She was tamed by a 4 year old toddler and loves to cuddle. She would prefer a calmer household as she tens to get spooked easily since she cannot hear. She loves to play with other cats. Pepper has been spayed, dewormed, is up to date on current vaccines and will be microchipped. To set up a meet-and-greet, please call the office at (707)442-7729 to schedule as she is in a foster home